South Dade JROTC Hosts Ceremony Commemorating September 11, 2001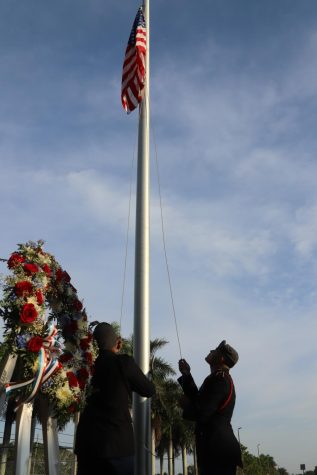 In remembrance of the tragedy that occurred on September 11, 2001, JROTC cadets held a ceremony for the many people who lost their life 21 years ago and the many heroes who responded in the aftermath of the terrorist attacks at the World Trade Center and the Pentagon.
On Friday, September 9th, the cadets welcomed students, faculty, administration and community leaders for the ceremony which was held at the flagpole located at the front of the school. Promptly at 8:00am, senior Reymond Pelaez narrated a speech on the the history of September 11th. "As my position as S-2 in JROTC I was chosen to be the narrator, it's a very big thing to do and an honor, especially with this I have to be fluent and really express my words when I speak," said Pelaez. The narration was accompanied by members of the band playing Taps, sophomores Jordan Gutierrez and Jaxson Hall on trumpets and senior Marlon Itzep on drums.  "I'm glad I was able to do something important and contribute a little bit, even if it was as small as playing the trumpet," said Gutierrez.
Principal J.C. DeArmas then delivered a few words and welcomed the visiting guests, Homestead Mayor Steven D. Losner, Vice-Mayor Julio Guzman, Region Superintendent Rafael Villalobos and Rosiandry Andrade, representing school board member Dr. Lubby Navarro. "What happened obviously had an impact and it's very emotional every year with the amount of lives that were lost, it takes me back to the moment when I first saw the Twin Towers coming down," said De Armas.
Out of respect for the people who died and for those who are in mourning, the American flag was carefully unfolded to be raised and then lowered at half-staff. Alexandra Serrano delivered a moving rendition of the star-spangled banner as the cadets marched to the flag pole. "The ceremony was very beautiful; it was a little scary for me to be singing the national anthem for something this significant, but I think I did well." said Alexandra.
The ceremony concluded with senior Melanie Perez giving a personal speech about her uncle who died as a paramedic in 9/11. She was escorted along with ESOL teacher Lynn Arnett, who lost a friend in the attacks, to place a ceremonial wreath in their memory followed by a moment of silence. "I never got to meet my uncle but he's very important to my family, especially to my mother and my grandma," said Melanie. "They always talk about him and seeing how much his death affects them it affects me as well."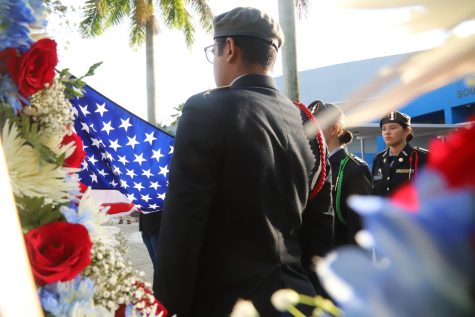 Leave a Comment
Your donation will support the student journalists of South Dade High School. Your contribution will allow us to cover our annual website hosting costs, purchase new equipment and attend workshops and competitions.