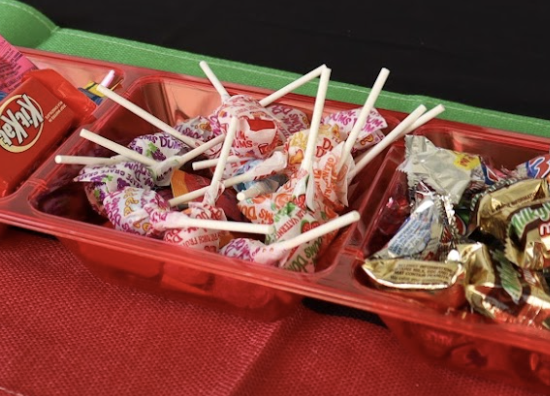 After deciding to go vegan when I was 13, Halloween has been a hard holiday to be able to enjoy. Being vegan means no more chocolates, gummies, marshmallows, or candy corn for me.
However, in the vegan community, there is a phenomenon that we like to call Accidentally Vegan, where everyday foods are actually suitable for vegans because they contain no animal products.
Coming up on my fourth year of being vegan, I think I've mastered the list of the top accidentally vegan Halloween candies.
SweeTARTS
SweeTARTS have always held a special place in my heart. I have never really been a huge fan of candy, but the perfect balance between sweet and sour that SweeTARTS offer is definitely an exception to that. The chalky texture that crumbles into a powdery goodness, and that feeling you get in the back of your jaw that makes you pucker your lips when you eat them feels like childhood to me.
Sour Patch Kids
Original Sour Patch Kids are by far the best accidentally vegan gummy candy in my opinion. Even though they are sticky enough to rip out your dental fillings, the texture of Sour Patch Kids is like no other, being almost stretchy while still having a perfect chew. The stretch is thanks to the use of cornstarch rather than gelatin (which is made from animal products), offering vegans a perfect, cost-friendly alternative to sour gummy worms or gummy bears.
Charms Blow Pop
Cherry Charms Blow Pops are like a gift sent from the heavens. For some reason, whenever I eat a Blow Pop, the roof of my mouth and my tongue somehow get utterly destroyed. It is worth the pain though when you finally get to the center of the lollipop, when the gum has the faintest layer of candy still attached, and you get to rip the gum off the stick to enjoy for the short time you have before the gum loses its flavor.
Honorable Mention: Utz Halloween Bats & Jacks
As aforementioned, I was never the biggest fan of getting candy on Halloween. While everyone else was hoping for king-sized candy bars, I was waiting for that one house that gave out Utz Halloween Bats & Jacks, because I knew I would be getting everyone's bag of spooky-themed pretzels. Even though it is technically not a candy, those pretzel bags were and still are the highlight of my night every October 31st.