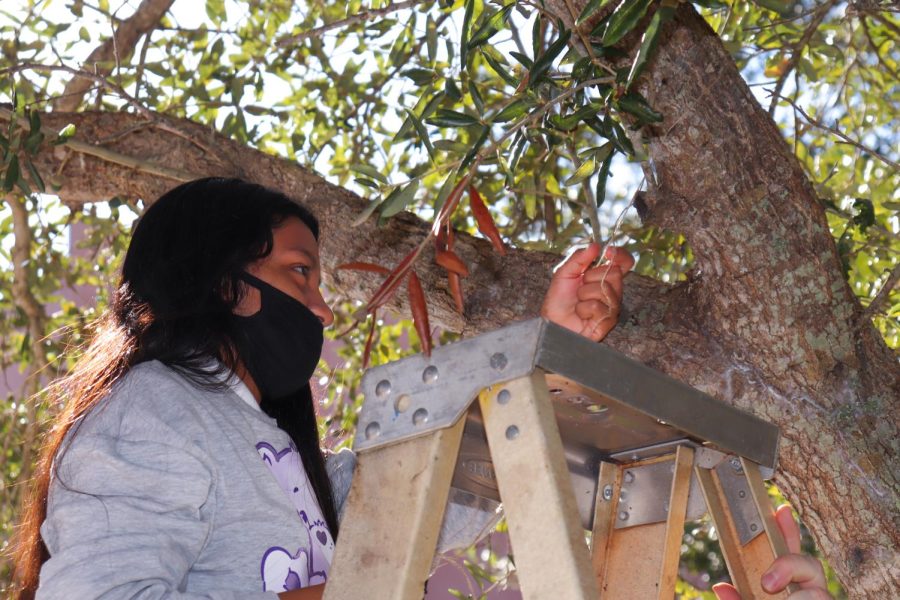 Agriculture Department Up to the Orchid Challenge
October 4, 2021
The South Dade agriculture program is participating in the Million Orchid Project, one of this year's Fairchild Tropical Botanic Garden challenges. The project aims to reintroduce one million native orchids back into the environment. South Dade was one of 20 schools invited to participate and help Fairchild meet their goal.
Returning agriculture teacher Robby Cox is using the challenge as a teaching opportunity for his students. "They learn a lot about propagating plants by actually putting the orchids on the host plants, which in this case are the trees," Cox said. The students also learned about the environment the orchids can live in and why the agricultural climate of Homestead is perfect for the project. "We have the Everglades right in our backyard, and we want to put the South Dade Senior name back out there," said Cox.
Students used what they have learned at the start of the school year to plant the orchids in the courtyard. "We tied the orchids around the trees using coconut husks and strings," said sophomore Cederick Walker. The coconut husks allow for moist conditions without the risk of root rot and the tree's texture is the perfect grip. "The trees in the courtyard work best because of the rough tree bark." said Walker.
In four years, close to 400,000 orchids have been planted in Miami Dade County because of the combined efforts of Fairchild and South Florida students.  "They plant the orchids in the Everglades, Coral Gables, Coconut Grove, Miami Beach, and now at our schools," said Cox.