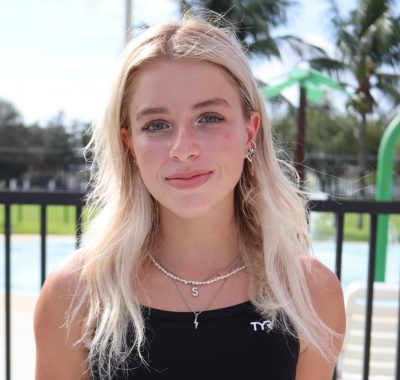 When Siria Lorini was at home in Cesenatico, Italy, and was given the opportunity to come to America as a foreign exchange student for her senior year, she dove head first into the opportunity. Even though her true home is more than 5,000 miles away, Siria is finding a new sense of family on the swim team.
"Back in Italy, I did do some swimming but never competitively. The main reason I joined swim was just to meet some new people and have something to do after school," Siria said.
While she does have some experience swimming, she has never swum to this degree. On the team, she typically competes in the medley relay, 200 freestyle relay, 50 freestyle, and 100 breaststroke, and attends weekly practices.
"My favorite event is 50 freestyle because I like to do sprints more than distances. When I'm swimming, I don't really think about anything, I'm just focusing on the race."
As the season comes to an end, she knows that competing in a new sport is something she would like to try.
Back at home, a lot of her after-school time was spent studying, so she is grateful for the less rigorous study schedule and the opportunity to immerse herself in more extracurricular activities.
"I love it in America so far. One of the main differences is that in Italy, school is taken a lot more seriously, but here I get to relax more and hang out and have fun."
Being in America has exceeded a lot of her expectations. It has been a dream of hers to come to America for years, so she jumped at the opportunity to do so.
"I've always wanted to go to America ever since I was a little girl, so I knew that when I decided to do exchange, I was going to pick coming to America."