South Dade Robotics Hosts Annual Jingle Bots Tournament
In spirit of the holidays, the robotics program participated in their annual VEX tournament, Jingle Bots. The tournament was a South Florida State Qualifying 'Spin Up' event, which was hosted in the South Dade gymnasium. "VEX is the school district's preferred robotics competition where most of the schools in Dade County are participating," robotics coach Shawn Waring said. At the event, there were even some schools from other school districts like Palm Beach county. Waring hoped that with holding the competition in a place familiar to his students, they would be comfortable and confident while also having the added convenience of not having to travel. "It is something that helps us in different ways, by giving my students the chance to participate in a competition where they don't have to travel, and it is also one of our biggest fundraisers for our robotics team," Waring said, "It gives us the opportunity to have the community participate as well, because there is no other place like this in the South Dade area."
The Spin Up tournament consisted of a total of 35 teams competing against each other, including 8 middle school teams. Teams first competed in qualifying matches, where two separate teams were paired up with each other as an alliance to compete against a different alliance. Teams could earn points by flinging discs into their goals disc golf style, spinning rollers to their team colors, and an expansion period where the robots attempt to touch as many floor tiles as possible in the final 10 seconds of the match. After each team competed, they got to choose their own alliances for an elimination period. Beginning with the first alliance made between Buccaneer Robotics and the Christopher Columbus Explorers, each team paired up in anticipation for elimination rounds.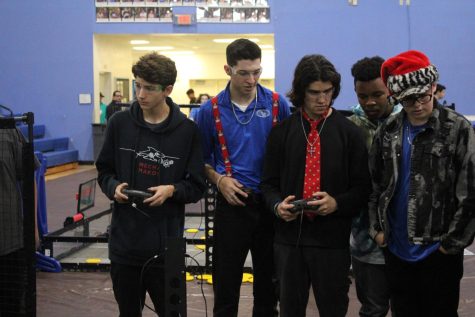 Senior Adrian Jara was chosen as the representative for the Buccaneer Robotics team and made the first alliance selection. "I'm the driver for VEX, so I get paired up with other players and get a sense of what it is that I want in a teammate," Adrian said. Before making his decision, he spoke with other teams to learn more about their strategies and the capabilities of their robots. "We picked the robot in 5th place rather than the robot in 2nd place because they suited our robot better because they had two autonomous codes and the same strategy as us."
After years of hard work and time spent towards the goal of getting first place, the team was finally rewarded. "We wanted an award to prove that we worked our hardest as a team to win and go to states," Adrian said. Emotions ran high for many on the team after figuring out they won not only the Think award, but were also the tournament champions. "We were all so happy and some of us even started crying." As a senior, this is Adrian's last year on the team, but the success of the program will not stop here with the many new additions added every year. "Winning has shown that this program is growing and every year when we get new students they show so much potential and hope for this program."
Leave a Comment
Your donation will support the student journalists of South Dade High School. Your contribution will allow us to cover our annual website hosting costs, purchase new equipment and attend workshops and competitions.