Piano Slam Brings Music, Poetry, and Inspiration to South Dade
Imagine being a kid who needs a creative outlet but doesn't have one. That kid who is always drumming but isn't in the band because he doesn't think he'd fit in or be good enough. The person who writes a blog that one person reads that doesn't know the school has a media program that would be an amazing outlet for great writers. For Carlene Sawyer, she saw music and poetry as that bridge.
After growing up and living in Miami and seeing the potential in our youth, Sawyer, executive director at the Dranoff 2 Piano Foundation, founded Piano Slam. "A lot of our artists are very successful and famous artists, so we decided to start bringing them into the schools because we feel that's where most of the families have their students, in Miami Dade County Public Schools," Sawyer said. Dranoff previously had a partnership when the Adrienne Arsht Center was first built, providing space for their artists to perform. "After we were there for a couple of years, we decided it would be really wonderful if the students could bring some creativity to it as well." The element of poetry in Piano Slam was added to reinforce what students are already learning in school and help them with their writing skills. "We decided that we would have something that the students had some experience with and could actually benefit them in some way, doing more writing that might help them with their written skills in any of their subjects." Now, she travels to schools across the county looking to inspire a new generation of artists.
Piano Slam featured performances from three artists University of Miami music students Angel Perez and Devin Shaw played Afro-Latino inspired music on the piano, and Miami Edison High School graduate Eveul Exil, also known as Evo, performed poetry related to his mental health. For Exil, traveling to different high schools and being a face of Piano Slam 2023 hit closer to home, as he competed in Piano Slam 8 when he was the age of the students in the crowd. "In the beginning, I didn't even think about doing Piano Slam, it was my teacher who actually forced me into doing it," Exil said. After being given a poetry assignment in class, his teacher had faith in him and his abilities and encouraged him to compete in the contest. "Around two weeks after I submitted my poem, my teacher called me out of class to show me that I was selected." He then went on to compete in front of an audience at the Arsht Center, and even though he was nervous, he was able to stay positive throughout his performance. "It was very nerve-racking to perform my art for the first time outside of my peers at school, but to be able to connect with people who barely knew me just through my art was a beautiful thing," Exil said.
The opportunity to invite Piano Slam to the South Dade Auditorium was especially exciting for John Crary, the assistant principal for curriculum. "I've always been a big fan of writing, I think writing is critically important," Crary said. Schools can't always provide students with the outlets to write creatively, or the inspiration to write creatively, and Piano Slam does a little bit of both. "My hope is that it inspires some students to want to express themselves via poetry, and one of the best ways to do that is to see someone that is doing it for a living, live on stage," Crary said, "and the music is an added bonus."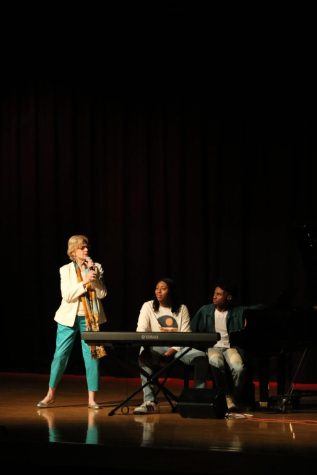 Leave a Comment
Your donation will support the student journalists of South Dade High School. Your contribution will allow us to cover our annual website hosting costs, purchase new equipment and attend workshops and competitions.