Raising Cane's Surprises Band Program Ahead of Grand Opening of First Florida Location in Homestead
On Wednesday, November 2, just 6 days before the grand opening of Florida's first Raising Cane's restaurant, the chain brought a sneak peek food truck for the South Dade Band to enjoy. Started as a single location at Louisiana State University, Raising Cane's is one of the fastest growing restaurant chains in the country, serving their signature chicken strips with their world-famous Cane's Sauce.
After driving by the new and then under construction Raising Cane's location at 2301 NE. 8th Street, president of the Buccaneer's Band Booster, Patty Agosto, reached out to the marketing department. "I told them all about the marching band, and I asked if they could participate in the opening, and they said yes," said Agosto. On November 8, the marching band will have the opportunity to showcase their skills while also drawing in new customers to the restaurant. "I sent in videos and pictures of the band playing, and they said that we could be partners which was exciting," said Agosto. She feels that after all of the time and effort the band has put in, they deserve something as rewarding as this opportunity. "I know that these kids are deserving of this, they work very hard in everything they do."
The newly partnered band was surprised with a food truck after school and given the opportunity to be some of the first people in the state to try the food Raising Cane's has to offer. "I think it was very generous of them to come down with their spectacular team," said band member Cynthia Mendoza. "I think everyone should go support them and us on the 8th." Also available at the food truck was a table of Cane's swag, including sunglasses, temporary tattoos, stickers, lanyards, and hair scrunchies. "I think that Cane's has a more diverse variety of merchandise than many other companies, which is super cool," said yearbook staff member Jennifer Diaz.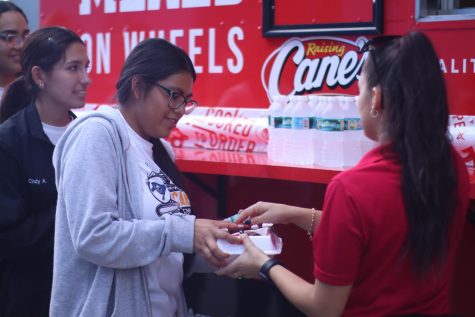 Amongst the hungry kids of the band and invited South Dade Media staff, Raising Cane's Area Leader of Marketing, Dayjah Cruz, was able to explain just how exciting the opening will be. "We love to do our grand openings really big," said Cruz. After being welcomed inside by the Marching Band, the first 100 customers will get free t-shirts and will also be given the chance to win free Cane's for an entire year. "South Dade Marching Band is like the #1 band in the county, and because Cane's is #1, we only work with #1s."
Check out our TikTok covering the event!
Leave a Comment
Your donation will support the student journalists of South Dade High School. Your contribution will allow us to cover our annual website hosting costs, purchase new equipment and attend workshops and competitions.