South Dade Media Students Win Big at FSPA District Workshop
On Monday, October 3rd, South Dade Bucs Media staff attended the Florida Scholastic Press Association's (FSPA) 50th Annual Journalism Day at Florida International University. The group consisted of Yearbook, Newspaper, and Tv Production. It was a fantastic opportunity for learning and gaining experience as a group together. 
After students grabbed breakfast and visited various vendors including yearbook publishers and photography companies, districts began with a welcome from Dr. Lillian Lodge Kopenhaver and Brian Schriner, the past and present Deans of FIU Communication, Architecture + The Arts. The opening session concluded with keynote speaker Jason Jackson sharing his experiences in the industry from how he started, to ESPN to his current job as the voice of the Miami Heat television broadcasts.  
When the time came for the first workshop, staff members split up and took part in sessions that pertained to their interest in journalism, ranging from design, photography, or videography. Media advisor Patrick Sicher presented two sessions of his own workshop, 'The Devil in The Details: Elevating Your Print Media' where he instructed students about the little details that can improve design, writing and photography using the 2022 Southernaire Yearbook, which earned an All-Florida award from FSPA. "I think it's really important to take a detailed approach when creating a yearbook to make it really stand out" said Sicher. "When students left my session I also wanted them to realize that what we do matters, we tell stories of people and their life during these four years and as journalists we really hold an important part of that person's journey. We must treat that with respect and tell people's stories well."  
After the sessions, students had a lunch break before attending the closing ceremony where they would announce award winners for contests submitted before the event. The staff submitted a variety of pictures, yearbook designs and other work for the Fall 2022 digital contest. Once announced they walked away with four All-Florida awards, four excellent, and two honorable mentions. The four All-Florida selections were two Celine Mili Student Life photos, a yearbook spread on the first pep rally of the year designed by Keira Faddis that featured photography by Mili and Rebekah Tackoor and an architecture photo that Sicher took.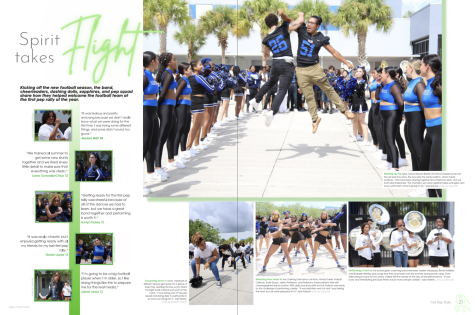 "When I read the screen and then heard my name, for not only one award, but three, my heart dropped immediately. Those awards truly show that I am heading towards the right path," said Celine. Junior Keira Faddis, the yearbook editor-in-chief, explained the emotions of winning such a prestigious award "I felt really proud of myself for winning an All-Florida because I put in a lot of work to get that spread done in the week that I had, and it was super rewarding to see my name up there."  
Leave a Comment
Your donation will support the student journalists of South Dade High School. Your contribution will allow us to cover our annual website hosting costs, purchase new equipment and attend workshops and competitions.